Wecome to Circle T Training!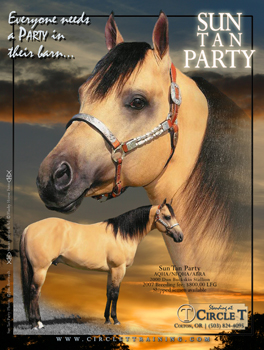 Circle T Training is located in the small town of Colton, Oregon, in the beautiful Pacific Northwest. It is here that we raise and train top quality paint and quarter horses. Our facility includes two barns, and indoor and outdoor arena and several lush pastures to turn our horses out on. We can train and fit your halter horses, start to finish on your western pleasure horses, and also give private riding lessons.
Circle T Training is currently standing a 2000 buttermilk dun stallion, Sun Tan Party, to outside mares. "Tanner" is a very level headed stallion with all the breeding, looks and agility that you could ask for in a horse. He is triple registered under AQHA, NFQHA and ABRA. Some of his get are haltering, and, as they age, will be ridden too. They have all come with beautiful color, great dispositions and super agility. Don't miss your chance to breed to the stallion of a lifetime!